Partnerships
In 2016, we funded naloxone kits for Seattle Police Department bicycle officers. In 7 months, 14 lives were saved. As a result the entire force will soon carry this overdose-reversing drug.
Education
We address school assemblies, community forums, service organizations, U.W. Opioid Summits, Federal Courts, treatment centers, radio, television, Frontline's "Chasing Heroin" documentary, behavioral health roundtables, the King County Health Board and more.
Community Service
We serve on the Heroin and Prescription Opiate Addiction Task Force and the WA State Stakeholders Task Force on Opioid Addiction.
Funding
We are planning to support research at the University of Washington's Alcohol and Drug Abuse Institute to learn how to effectively connect people with lifesaving care. We are also developing school prevention programs targeting at-risk youth.
Advocacy
Our testimony before a Washington Senate committee helped pass legislation making naloxone more accessible. We are also building awareness of evidence-based opioid addiction therapies such as Medication Assisted Treatment.
Empowerment of Parents/Families
We help families emerge from the shadows and guide them through the quagmire of addiction services and treatments.
SEATTTLE POLICE DEPARTMENT/NALOXONE:
The Marah Project is currently raising funds to help equip Seattle Police Department officers with naloxone.  Naloxone, or Narcan, is a life-saving drug delivered intra-nasally that can reverse a heroin overdose if given quickly enough.  In Phase One, SPD will  equip 70 bike officers with Naloxone kits in specific areas of the city.   The University of Washington's Alcohol and Drug Abuse Institute will be conducting extensive research on this Seattle naloxone project to measure the program's effectiveness.  The roll-out date will be announced soon.
PHASE ONE:
60 Naloxone nasal aspirator kits at $40/kit:
$2400
40 Naloxone nasal aspirator kits for training/replacement:
$1600 
 
Total Naloxone cost:
$4000
Cost of UW research:
$100,000
PHASE TWO:
Cost to equip entire SPD annually:
 $32,000

All donations are tax deductible.
This school year we created the Marah Project WEEK to raise awareness in our paid internship program. Each day started with tasty breakfast treats, then a variety of educational speakers and entertainers came to the Middle College: a yoga instructor, an etiquette expert, a musician, the head of a Drug Treatment Center, an entrepreneurship specialist, etc. We moved our internships from spring to summer to make it easier for kids working hard to graduate. Our two winners were Jerry Au and Jacob Watkins. Both were mainstreamed in for instruction and mentoring with the TIPS interns.
Jacob summed up his experience working at a food bank:
"I really enjoyed my internship at the food bank … I learned a lot and it really opened my eyes to those surrounding me in my community."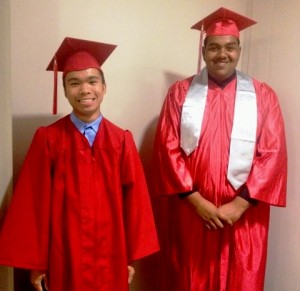 Jerry Au and Jacob Watkins at Middle College graduation ceremony.
A generous amount of memorial donations needed to find use. The Marah Project formed an advisory committee which decided to focus on teens at risk. Believing that work opportunities could be helpful, we teamed up with a local organization called Teens Without Borders. (link) TIPS selects teens for paid internships in Seattle community service organizations. TMP decided to find our candidates at Marah's high school– Northgate Middle College. (NMC is an alternative high school in Seattle which helps kids retrieve credits for graduation.)
The Marah Project funded the internships with guidance from TIPS. We believed the Middle College students could benefit in several ways:
Learn responsible employee behavior
Experience the world of serving others through nonprofit organizations
Earn income
Get job experience and build a resume
Three students were chosen for internships, and 2 of them completed the program.